This house in Maltravers Road, Eaglemont has just come onto the market - it's called
Viewmont
and I love all those curves! It's a lucky person who buys this place - I can just imagine some rooftop cocktails on the balcony...
I also wanted to post about a few design inspirations that have recently caught my eye. I fell in love with these Morrocan-inspired earrings by
Samah Designs
a little while ago and this same pair in turquoise are now gracing my ears - they also come in orange. You can buy them on
Etsy
for $25.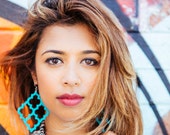 Local retailer
Estelle Michaelides
has her own label
Micky in the Van
and I absolutely love her
Mon Colette dress
in white lace - it was a hit when she was recently overseas at
Paris Fashion Week
and has also been just as popular for the races on this week. Estelle has a very ladylike, feminine design aesthetic which really appeals to me and I'm obviously not the only one, given the online coverage I've seen.
I've had a bit going on but it looks like we are staying in Melbourne (after Mr Rosanna went overseas for work earlier this year and we were toying with the idea of re-locating to Asia and doing the ex-pat thing), hence the need for passports which we hope to still use at some future stage! Given we live in such a great local community, I can't say I'm too disappointed as much as travel is a fantastic life experience.
There's a huge amount of stuff going on over the next six weeks leading up to Christmas so I hope to be posting more often than of late.