The lovely Rona - image via The Abbotsford Convent website
Local Montmorency artist
Rona Green
is part of a group exhibition showcasing work by Mercator Studios artists and designers called Industriousness which opens today at The Industrial School, Abbotsford Convent, 1 St Heliers Street Abbotsford. The exhibition runs until 2 September and is open Friday, Saturday and Sunday from 11 am - 5 pm. Entry is free and drinks with the artists and designers will by held on Sunday 2 September from 2 - 4.30 pm.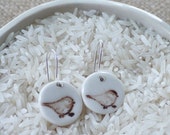 Mrs Peterson image via Etsy
Rona is a big fan of birds like me and these earrings by
Mrs Peterson
are on my wish list. I haven't actually bought many brand new things this year as per my New Year's resolution (and limited budget!) but these are a little whimsical and remind me of Spring.
Another thing on my wish list is this Scarf Bag in grey by
Nancybird
. Nancybird is actually having
a 5 day online sale
at the moment if you have some dollars to spend. Lucky you!